Blog Post
First there was a horrible, terrible, no-good very bad noise. It was a screeching that was more painful than I can ever explain to you. Then everything flickered as if someone was opening and closing vertical blinds over and over at a very fast rate. And then there was silence — though it really wasn't silence. Finally a massive fog surrounded me.
All of that happened on what was a lovely summer day. And "that moment" is what I now refer to as "the moment of impact." You see, it was on that day in 2016 that because of a car accident I received a concussion. It was a moment. Simply a moment. Yet a moment that changed everything.
You know all that stuff they say about concussions? How it really impacts people. And that it's something that is hard on the brain. Well — it's true. I know.
As concussions go, I'm living proof of what can happen when you receive one. While I have no intention of becoming the poster child of living with and through a concussion, I do wish to start sharing more about my post concussion journey and more specifically, the art I now create as a result of my concussion.
There are many, many things that can happen to a person when they receive a concussion; including post concussion syndrome. I've experienced them all and then some. But for me, I've also experienced some other things that are a little different. And that's made my journey a bit more challenging as well as possibly a bit more interesting too.
In the days shortly after my concussion I remember this distinct feeling that my thinking had changed. It was as if I knew that things in my brain were suddenly in a new place. And that everything was connecting differently. Plus I also had a specific sense that there was going to be a new quest in my life. I had no idea what that quest was to be or why I felt it. I just knew that despite the fog I was in there was also light too. It sounds crazy, but in my brain it was real. For many, many months I worked hard to understand what all of it meant — while also struggling with all that comes post concussion — headaches, memory issues, confusion, irritability, sadness, exhaustion, pain, dizziness and so much more. I'm still living with all of that — except now I've finally figured out that I need to embrace the new talents I have as well as the difference in the way I think, process and connect things together. There's no going back to the days that were before the concussion — there really only is life post concussion.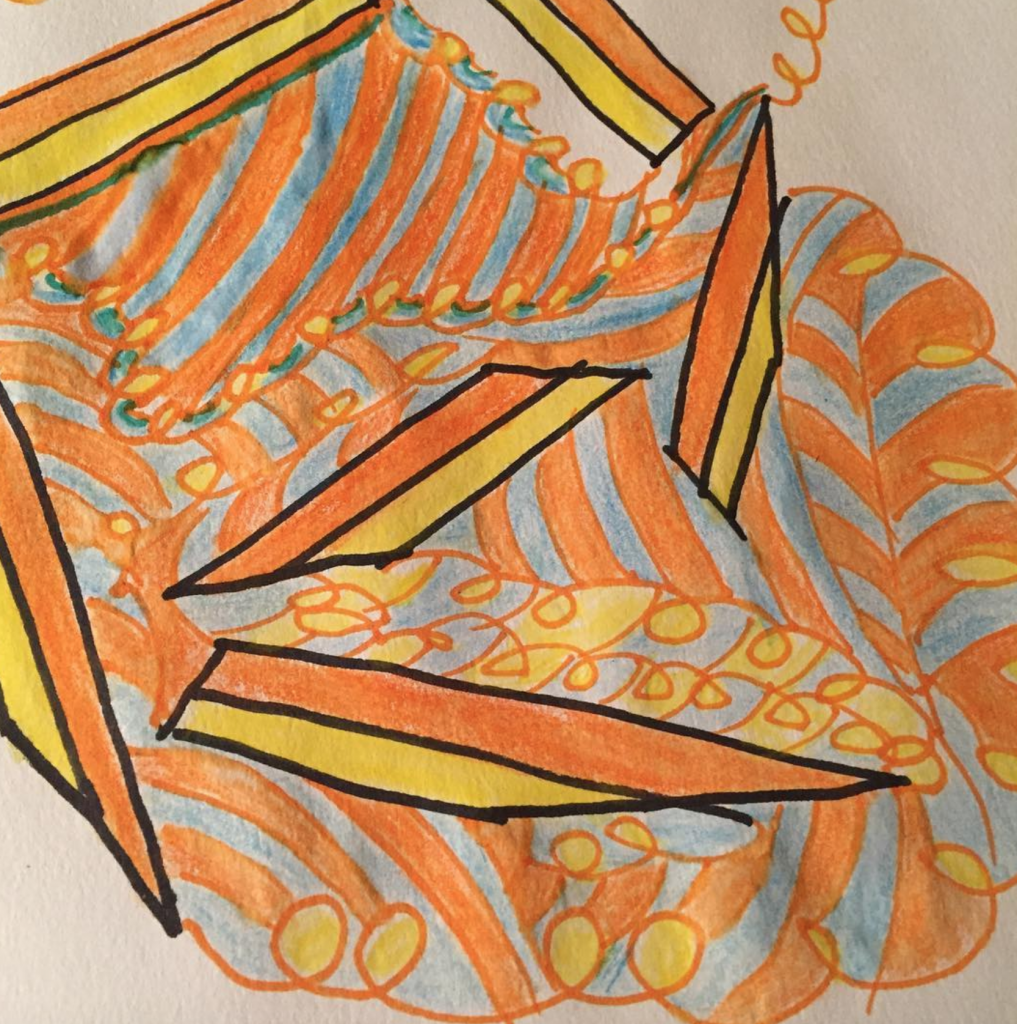 A few months after my accident I started drawing with the colour orange. It's the colour I like the best. And somehow seeing more and more orange on the pad of paper I drew on gave me energy — which was crucial because I was (and still am) exhausted much of the time. Plus in some strange way drawing made my brain feel a little more comfortable too. It sounds strange — but it helped and seeing the colour on that page. And somehow it seemed to make the fog I was in a bit more easy to see through. It was as though the colour on the page cut through the fog and reduced it in the smallest of ways. And that felt good — despite the million reasons that having a concussion didn't feel good at all.
Twenty months later I'm still drawing. Plus sometimes painting too. Creating art is something I've had to get used to. There have been days, weeks and months that I've fought off the urge to create art. And days, weeks and months that I've also embraced it.
Here's what I know — the ability to draw, paint and create with colour is the one bit of good that came out of my concussion. And so — I'm leaning into it more and more. It brings me joy — and it makes my brain happier.
Creating drawings, paintings and more let me see colour despite the fog that the concussion caused.