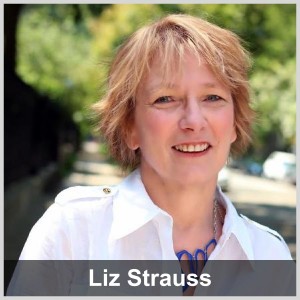 Liz & Jane first connected on Twitter several years ago. They went on to have their first telephone conversation in early 2011 and it was a most memorable one. Later they met in person at SOBCon NW 2011 and Jane has been at every SOBCon since then. Liz has offered tremendous support and guidance to Jane related to the development of 45 Conversations and so much more. Today, Liz and Jane are business partners in GeniusShared. In addition, Jane is the Story Editor for Liz's new book — Anything You Put Your Mind To which is being published in Summer 2016.
Liz Strauss is an opportunity creator, an international business strategist, and keynote speaker. She's been called the most influential "real-ebrity" on the web. She's a master teacher, an über connector, an idea machine with bias toward action.
No one questions that Liz brings a one-of-a-kind authenticity backed with hands-on authority.
Liz speaks softly and carries a lot of street cred.
Strategist, CEO and founder of SOBCon & GeniusShared, author of the popular Successful-Blog.com, keynote speaker. storyteller.
Liz defines irresistible businesses as those with great relationships who constantly
Remove what customers don't want.
Enhance what customers love.
Add something unexpected customers would die for.
Irresistible defines Liz.