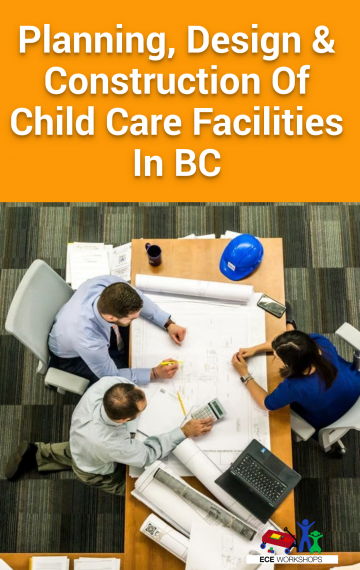 $59.99
Publisher:

45 Conversations Media & Education Ltd.

Available in:

Delivered via email and online learning pages.
Learn More
Register NOW!
About Our Professional Development Certificates
High quality online professional development from ECE Workshops for today's early childhood education professionals.
In this 6 hour online professional development workshop educators will explore what is involved with the planning, design and construction of child care facilities in BC.
This workshop includes:
30 photographs about the development of an award winning licensed group child care workplace program
A special video presentation by a professional project manager who is experienced in the development of child care,
Insights from Jane Boyd, ECE Consultant who has been certified in 5 Canadian Provinces
A multitude of resources!
Through a series of questions, participants will be walked through a highly informative learning experience to help them better understand many different areas related to the design and construction of high quality early learning and care environments.
Upon successful completion of this online workshop you will be sent a 6 hour professional development certificate from ECE Workshops.
What Learners Say About Planning, Design & Construction of Child Care Facilities in BC
I think the knowledge that is shared is amazing, and great!! I really enjoy learning from you. ~ Sarah Poole

Being stuck at home during COVID-19 really made me wish for some tasks and projects to work on. Doing this ECE workshop online for my own home was very knowledgable and very helpful. – Past ECE Workshop Attendee

I did enjoy this workshop as I found the design to be comprehensive, easy to follow and user friendly. The information is accurate and well researched, and I know this as I run a daycare and preschool and am looking to to renovations and updating for more space in daycare. I am also looking into landscaping and developing the outdoor play areas to be more nature oriented. This workshop was very helpful in that way. I would recommend this workshop to anyone who is hoping to expand on an existing child care centre or construct a new one. ~ Past Workshop Attendee; Executive Director of a not for profit community organization and licensee of a Preschool and Daycare both of which have been in operation for several decades. I also hold an ECE current license to practice.

This workshop offers basic guideline points that can be helpful in proper planning, designing and constructions of a new daycare. ~ T. Gill

I enjoyed this workshop as it can be very overwhelming when thinking about starting a centre from scratch. This workshop was very detailed about the entire process from start to finished, offered lots of references and some really great advice and information that one otherwise might not have thought of. ~ S. Schaub

This ECE workshop was extremely helpful for me as I work full time and find it hard to attend courses in person. I love that I can learn online from my home. This particular workshop was great for me as I plan to open my own childcare facility in the future! ~ N. Shaver

This was an amazing experience to take this workshop and learn about all of the various aspects that might be involved in renovating or building a new childcare facility in BC. It allowed me to access the materials when I was able to and take time to reflect on the information that was provided. There was definitely some eye opening information and it was helpful to have plenty of photo's with write ups to see how other Centre's configured their space. ~ N. Skoreyko

This workshop is perfect for anyone who wants to develop a strong foundation of what considerations one needs to make when developing a new childcare centre. Jane makes you think about things you could easily overlook and miss when building a new childcare space. Knowing these things early on now, I know I have saved myself both time and money! Highly recommend! ~ T. Lam

This workshop was an eye opener for me, I had always kinda thought it would be cool to open my own centre but never really knew where to start (I have dreams of what I could look like) but now I feel more confident and this dream could actually be a reality. It does not seem at that scary because I know no more about the process, which I know see is not too hard. ~ MH Groulx

Easy to read and related to relevant resource. ~

Wanwen Zeng, 10 years experience ECE and private Childcare Center Owner

Clear and concise delivery! I found this workshop very informative and helpful. I highly recommend to anyone interested in opening a Licensed Child Care Facility! ~  Past ECE Workshop Attendee

We can gain knowledge and different resources through this. ~  Past ECE Workshop Attendee

It really taught me much about opening child care facilities and various rules and regulations. ~ Past ECE Workshop Attendee

Convenient. Easy to follow and understand. A framework to start from and refer to. ~  Past ECE Workshop Attendee

This workshop provides an easy guideline to get started with if one is interested in opening a childcare centre. It also provides some additional sources to research ideas.  ~  Past ECE Workshop Attendee

I love this workshop and its very interesting. I learnt so much from this workshop. ~  Past ECE Workshop Attendee

Thank you much for offering online ECE workshop for working people so could save time. ~  Past ECE Workshop Attendee

Informative, well executed and enjoyed the challenge. Thank you! ~  Past ECE Workshop Attendee

Every steps are helpful and lots of info to know. ~  Past ECE Workshop Attendee

Workshop from Jane is wonderful, I like it, and I would like to recommend to others! ~  Past ECE Workshop Attendee

This workshop is very informative with a lot of resources that will help you in establishing a new child care facility. Tells you where to start, what to consider, and where to ask for help.  ~  Past ECE Workshop Attendee

Yes, I do enjoy it. It took me a long time to finish this workshop. There are a lot of useful information. It helps me reviewing the child care licensing regulations and it is very good reference and resource for you to opening a new facility. ~ Past ECE Workshop Attendee

Very interesting and engaging workshop! The pictures and video give a detailed idea of the whole process and makes it actually seem POSSIBLE and gives hope. ~ Past ECE Workshop Attendee
A Super Convenient Way to Obtain Your ECE Professional Development Hours