Educator, Writer, Speaker and Entrepreneurial Early Learning & Care Educator/Consultant
Jane Boyd is a highly connected & visionary leader who builds local & global community — face to face and online. She develops engagement, nurtures collaboration and role models social generosity with intention every day — in life and business. Jane consults with key stakeholders to address issues related to education, community, business & work-life.
Through 45 Conversations & ECE Workshops, Jane is focused on delivering unique online professional development experiences and coaching services that are designed for the Canadian and global Early Childhood Education sector as well as a range of child care consulting and advisory services. Through ECE Retreats, Jane and her team at 45 Conversations develop unique face-to-face professional development experiences for Early Childhood Educators and Child Care Operators. Jane's current areas of focus include:
Delivering high quality online professional development experiences for the early childhood education sector.
Coaching and mentoring early childhood educators, child care leaders, operators and owners plus a range of other early learning professionals.
Speaking and training on a range of ECE and child care operations topics, including: program vision and philosophy, strength based approaches, mindfulness and flow in ECE and child care environments, blended philosophy programming, enhancing team work in early learning settings and inclusive practice. She is able to develop custom content.
Consultation related to child care centre design, development and programming.
SEO, content optimization and digital marketing for the early childhood education sector.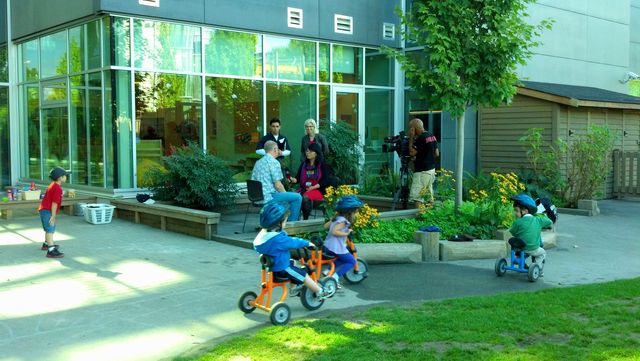 Recognized as a Canadian leader in work-life & early learning issues, Jane has advised many of the "best" employers in Canada. She has been at the forefront of designing & implementing unique approaches to enhance & increase employee engagement & has led the development of award winning work-life solutions & strategies for more than 25 years. Jane has been a licensed early childhood educator in 5 Canadian provinces. She was the primary work-life consultant involved in the design, development, implementation and first 5 years of operation of rbKids, the award winning workplace child care program at Ritchie Bros. Auctioneers which is based Burnaby, BC. The program is considered to be a leader in work related child care solutions in Canada. In addition, she has consulted on multiple other workplace child care related projects in BC and Alberta.
From idea to development to operations – Jane has been involved in all aspects of child care facility design, development and management. Jane continues to actively working on consulting projects related to the design and development of new child care facilities in multiple communities that are expected to open over the next few years. Jane also oversaw the design, development and first year of operation of a Montessori preschool and Kindergarten in Summerside, Prince Edward Island and served on the Advisory Council on the Status of Women while working on the Island. She has more than 20 years experience working with and supporting Montessori and Montessori-Inspired early learning and care environments. Over the years she has worked with a significant number of early childhood education project, programs and services.
At the community level, Jane authored the 2015 child care needs assessment for the the East Kootenay region in British Columbia and has advised countless committees, task forces and organizations over the last three decades. Jane recently worked with a BC based college to develop the initial foundation for an upcoming ECE Basic and ECE Post Basic training program.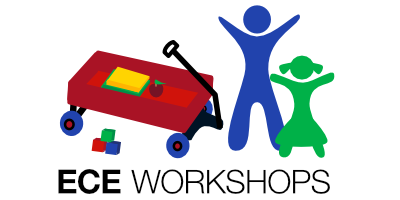 Through ECE Workshops, Jane is also focused on delivering online professional development to educators using a combination of automated email marketing and web based LMS solutions. This service provides high quality professional development opportunities to educators across BC as well as from other areas in Canada and Internationally.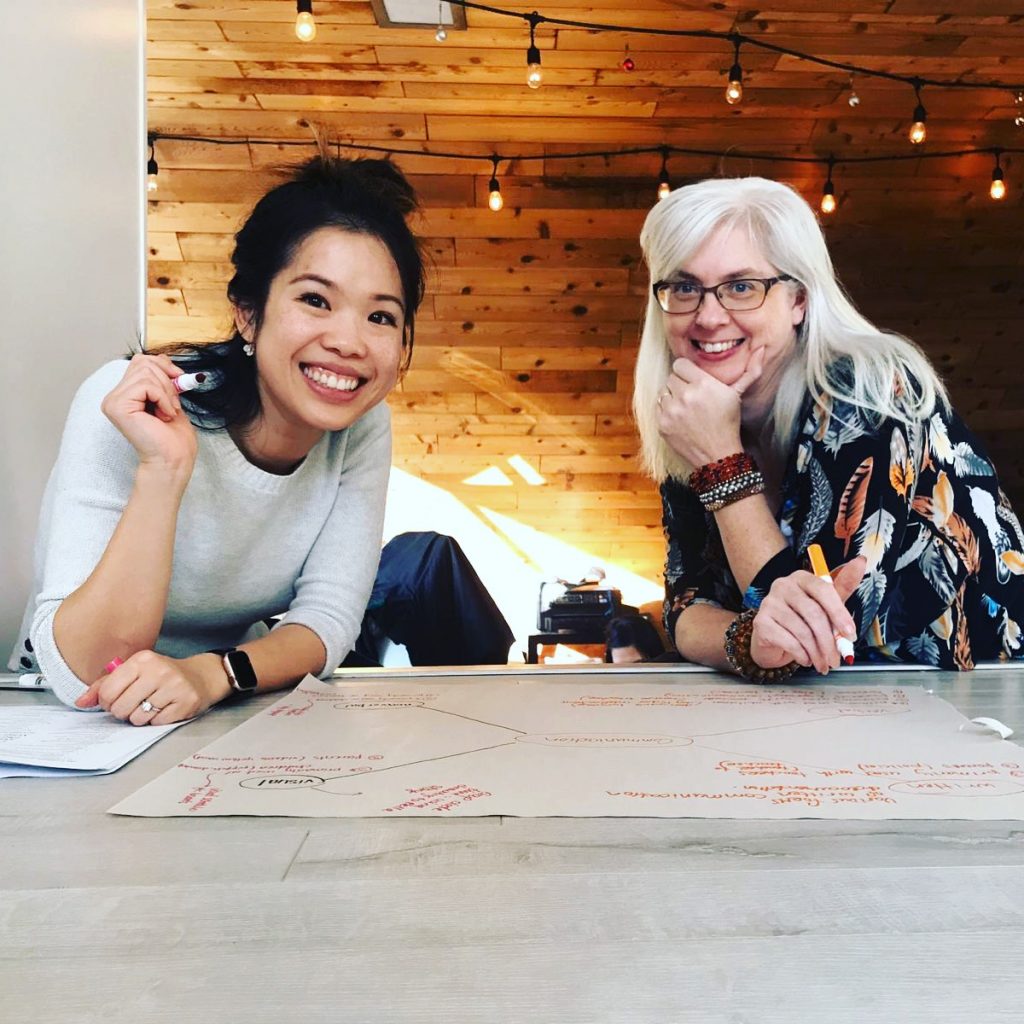 In addition, she offers high quality, face-to-face professional development experiences through ECE Retreats which are held multiple times per year in BC as well as through customized  and face to face workshops for clients, early learning programs and child care providers.
Jane's client list has included VanCity, HSBC,  Ritchie Bros. Auctioneers, Envision Financial, PWC, Electronic Arts Canada, BC Housing, City of Richmond, the Province of BC  and countless other organizations. Through her work, Jane has been directly involved in securing more than $2.75 million dollars in funding for projects relating to business collaboration, work-life balance, employee wellbeing, education, community development and child care.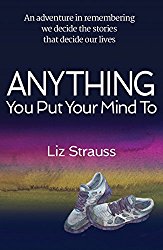 Through a partnership in GeniusShared, Jane is focused on the launch & marketing of a number of digital products, face to face retreats and online experiences related to personal & business development. She is the Story Editor of the recently published book Anything You Put Your Mind To by Liz Strauss. She has also written an email newsletter distributed to more than 3000 business leaders and on Successful-Blog. Jane is also featured on Keeping Curious, a podcast available via iTunes and SoundCloud, that is dedicated to conversations about work, life, business and all things GeniusShared.
In 2015, Jane partnered with colleagues in the USA and Ireland to co-host GenKind24 — a 28 hour live streaming event that focused on the role of generosity and kindness in business and education. She has also been the Co-Host of #Lurkerchat, a weekly live Twitter chat that explored online engagement, the silent majority & online lurking. Jane has also hosted more than 45 hours of live streaming video conversations with education and marketing colleagues from more than 7 countries over the last 5 years.
Jane is a sought after speaker for conference, training events & retreats. She is a highly skilled facilitator & presenter who is able to engage her audience while also building community. Jane also hosts conversations on-air via video. Her speaking engagements have included Health, Work & Wellness, Social HR Camp, Social Media Camp, SOBCon, SOBCon NW, Work-Life Summit and many more.
To learn more about Jane Boyd visit her Speaking Bio.
To view her LinkedIn profile visit here.
Disclosures & Relationships from Jane Boyd
I'm the CEO of 45 Conversations Media & Education Ltd.
I design and host online professional development workshops for educators and parents through ECE Workshops.
I design and host professional development retreats for early childhood educators through ECE Retreats.
I work with many different organizations, projects and initiatives. Visit my Linkedin profile to learn more.
I build relationships and my business with generosity and intention as my guide.  Generosity is my highest value, in business and in life.
I'm the main Consultant who designed, developed, launched and managed the initial 5 years of the operations of the Ritchie Bros. Auctioneers Child Care Program. I still work with them on sometimes related to professional development and staff training.
I am actively developing product partnerships with ECE and child care suppliers.
I have been the Co-Host of the Business Jazz Podcast and the Co-Host of #LurkerChat.
I'm a member of the #misfitcon community as well as multiple other online business development communities.
I collaborate with a number of colleagues around the world on various initiatives and projects.
I'm beta testing a range of features for List.ly and provide frequent feedback.
I have worked in collaboration with Nick Kellet on a number of initiatives.
I work in collaboration with The Sonnet Man — Devon Glover.
I have conducted Conversations On Air for SocialHRCamp, SOBCon and Social Media Camp.
I provide a range of services to the corporate, government & community sectors.  Where necessary, I disclose information related to potential conflict of interest situations.
I speak at and participate in a variety of online and face to face events.  Often in exchange for my participation/speaking, my travel and/or registration fees are waived/reimbursed.
I make contributions to people and projects I believe in through GoFundMe, Kickstarter and Patreon.
Sometimes I'm sent product samples and/or books to review.  I only promote products and/or services that I feel benefit members of the 45 Conversations Community.
I worked in partnership with Liz Strauss on several initiatives:

GeniusShared – a personal and business development network for entrepreneurs.
Anything You Put Your Mind To – I was the Story Editor.

I collaborate with Eric T. Strauss on a number of initiatives.
I worked with John M. Sweeney and Gigi Peterkin to Co-Host GenKind24 a 28 hour global event that was held on Blab. The event focused on generosity and kindness in business, community and education
I have a child enrolled in Self Design and have been connected to multiple Montessori Schools in varying leadership and consulting roles.
I actively advocate for the unique learning needs of children and adults with exceptionalities, neurodiversity and mental health conditions. I'm the parent of a child with Autism Spectrum Disorder.