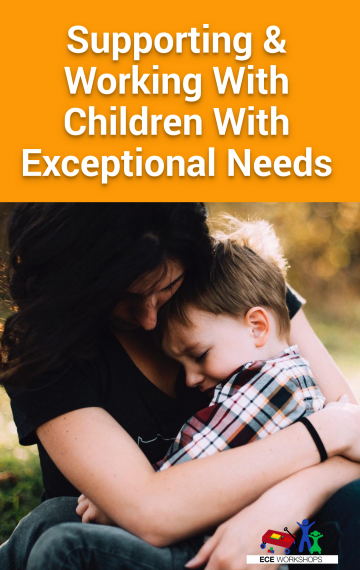 $49.99
Publisher:

45 Conversations Media & Education Ltd.

Available in:

Delivered via email and online learning pages.

Published:

February 1, 2018
Individual Registration
About Our Professional Development Certificates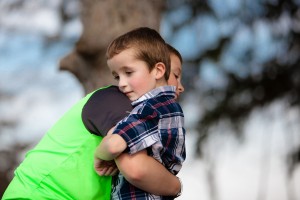 ECE Workshops: Supporting & Working with Children with Exceptional Needs
At ECE Workshops, we know how important ECE professional development workshops are for educators who are working in the field of early childhood education. This ECE Workshop has been designed to be flexible, interactive and interesting. Most of all — we believe you will take away a lot of new information and strategies related to working with children with exceptional needs.
A 3 hour online ECE workshop about supporting and working with children with exceptional needs — including Autism, ADHD, Physical Disabilities and Behavioural Disorders. Includes videos, audio, visuals, interactive questions and more! Packed with GREAT learnings. A must for all ECEs!
Description of this Online ECE Workshop
In this ECE workshop, early childhood educators explore their knowledge and experience of supporting children with exceptional needs. The workshop includes a general review about children with exceptionalities, information about what is involved with a child receiving an assessment and/or diagnosis and suggestions for ways ECEs can strengthen their day to day approach related to working with children (and their families) with exceptional needs. ECEs also explore any fears or concerns they may have about including a child with exceptional needs in their classroom or program. Participants learn to identify ways to make their approach more supportive and early learning environments more accessible for children with ADHD, Autism, Behavioural Disorders and Physical Disabilities.

At ECE Workshops we know how important flexible online workshops for ECE are for today's early childhood educators. That's why we have made this workshop for ECE teachers high quality, interactive and simple to work your way through.
ECE Workshop Outline
Learning Hour 1:
Learn about the term "children with exceptionalities."

Explore personal knowledge, experience and reactions related to supporting children with exceptional needs.

Identifying any fears or concerns educators may have when working with children with exceptional needs.
In Learning Hour 2:
Learn general information and terminology related to children with exceptional needs.

Understand more about the diagnosis of exceptionalities in young children.
In Learning Hour 3:
Find out how to learn more about specific exceptionalities.

Learn about four exceptionalities and some strategies ECEs can implement in a child care program related to supporting children with:

ADHD – Attention Deficit Hyperactivity Disorder

ASD – Autism Spectrum Disorder

Physical Disabilities

Behavioural Disorders

Upon successful completion of this online workshop you will be sent a 3 hour professional development certificate from ECE Workshops.
How To Register for this ECE Workshop
Registration in this workshop is available for Individuals and for Teams.
Individual Registration

– Purchase an Individual Registration if you are the person who will be completing the ECE Workshop. The ECE Workshop will begin after your payment has successfully processed.
If you have any questions about this ECE Workshop or registration please send an email to jane @ 45Conversations.com
Testimonials from Educators About this ECE Workshop and ECE Workshops!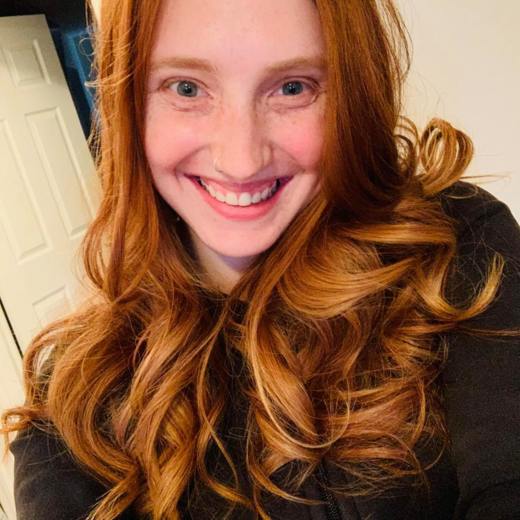 "I think that this was a very valuable professional development experience, especially for any beginners that do not have any previous foundation of working with children who have exceptionalities. It provides a good base and allows you to dive into information and then have your knowledge tested. The online experience is very well organized and was seamless as you moved from one area to the next. I was able to complete it on my own time, and did not feel rushed, something that is so important for us busy educators!" ~ Shawna Wylie, RECE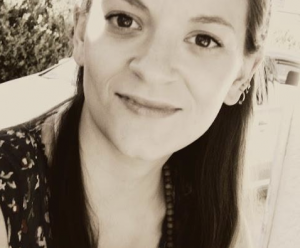 I have taken 2 other courses with 45Conversations and so far this one was my favorite. I love the videos that were included, and the information provided was put together well. All of the information in this course can be put to use in your classroom right away. ~ Nikki Shaver, Early Childhood Educator
"In this workshop I learned a great deal about the system of referrals for children with special needs. I also learned why the system of referrals is very slow and sometimes children with special needs and their families cannot access it at all. I learned about what happens to a child with special needs when they reach the Public education system without a diagnosis or the intervention they need. I learned new techniques for working with children with special needs in the classroom. I recommend this workshop. It touches on many different aspects or working with children with special needs." ~ Nancy Malone
"I enjoyed this workshop. I like the online format, that I can complete in my own time. It is well organized. I look forward to take another workshop – I'm thinking of the Montessori one." ~ Terry Breck
"I had a lot of fun doing this course during this Covid epidemic, I was very happy to find a course that was able to work around my schedule with my kids. thank you for a great course and for the wonderful knowledge." ~ Katherine Salazar
I really enjoyed doing this workshop! I liked how informative this was about working with children with exceptionalities and how the educators teaching it had personal/workplace experience to share. I would recommend it for anyone looking to learn, reflect or evaluate themselves as a professional working with children from 0-12 yrs old. ~ Kelly Schweyer
Great workshop, informative videos and clear instructions. Looking forward to my next workshop. Thank you. ~ Anna Cheah
Thank you for the workshop it was a lot of helpful information. ~ Janelle Gallant
It is very convenient. Full of useful information. Simple, easy but very helpful and informative. ~ Gurneet Kaur Kataria
It was a great experience and to develop more understanding , awareness to children with "exceptional needs."  It is important for Early Childhood Educators to create this awareness so that we can seek support and early intervention for them. ~ Past ECE Workshop Attendee
The children with exceptional needs are beautiful because all the children are beautiful in a million different ways. Try to help them and love them. ~ Vesna Adamova
Yes I liked that workshop, I got so many ideas how I can support the children with exceptional needs. My job is going to be more successful because my children are going to be successful. ~ Past ECE Workshop Attendee
This was my first ever ONLINE workshop, I was a little hesitant because i thought it was going to be just videos after videos. This was not the case- it was nicely laid out in a way that was easy to follow, the questions were to the point and actually about what you just learned, i got some very good points and tips that i will be taking on with me. The videos in Part 3 were picked perfectly even if you think you know some stuff about people living with disabilities, the videos just opened my eyes even more. ~ Nicole Dunlop
I really enjoyed this workshop. This online workshop is very easy to access, it goes at your own pace which is awesome and that you can go back and review the materials as many times as you want. It is also presented very clearly, each task and videos are loaded with no problems, and the quality is good too. ~ Xintong Wang
I love doing these workshops online! It makes it easy for me to continue learning in my field without having to miss work for professional development. Between work and family it is hard to find time to register for courses, this makes it easy as I can do them whenever I have free time. ~ Diana Goode
What a wonderful way to obtain ECE hours with such an engaging and informative person!! Jane is amazing! ~ Robyn Driscoll, ECE
As a parent and an ECE, this was a fun, informative and time efficient way to complete my Pro D hours. ~ Megan Burns, ECE/IT/SNE
Great workshop! ~ Shauna
I loved doing this workshop from the comfort of my own home and the examples where directly related to working with children and very practical. I found myself being able to imagine myself in the situations being described. ~ Ashley
It was very interesting and informative workshop  that will help me in my practical life. ~ R. Imran
Thank you for this amazing workshop. It's really useful for all educators to get tools and become more professional dealing with children with exceptionalities. ~ Laila el hazzat
The amount of information given to me was amazing, it opened up my eyes so much. As well the course was very easy to complete because it was able to be done at my own speed and my own pace which I appreciated very much. ~ Ellie Rychkun
This workshop was really great and helped me become more professional in Special Needs. This three hours was very informative. Thank you. ~ Sujeong Yu
Wonderful. Full of info. Can't wait to take another. ~ Sara Egan, ECE
And Even More of What Educators Are Saying About this ECE Workshop and ECE Workshops!
(We are so incredibly thankful to all of the learners who have such great things to say about this ECE Workshop!)
Past ECE Workshop Attendees
"This ECE workshop helped me learn more in-depth information. really enjoyed the videos and slides, they helped a lot. I would recommend this workshop to others!"
"This was my first online workshop and I felt really good about it in the end. I liked that I could complete at my own pace, Jane spoke clearly and concisely and was easy to understand. I would probably take more online courses."
"Yes. . . I enjoyed this ECE Workshop. Best part is that we don't need to go anywhere." 
"Being able to take profession development courses on-line can be a lifesaver when there are not enough courses available in your community to allow you to obtain your 40 hours in a timely manner."
"I love Jane's workshop, it's useful and informative, and I really enjoy the video interaction from Jane. I recommend workshops from Jane to ECE educators!"
"This online workshop gave me a lot of knowledge and actual information I really need as an ECE. It is very practical that I can apply in the field from tomorrow."
"I am thankful that I could learn more about this field for the children. I hope more many teachers can know this workshop."
"This is an excellent introduction or reminder in learning about children's differences and exceptionalities. I really like the practical parts of the course."
"Another great workshop experience from Jane providing a professional and educational experience."
"Wonderful. Full of info. Can't wait to take another."
"I learned a lot at my own phase, so i didn't have to rush through it."
"It can open up the minds of Educators who are schooled in different countries currently practicing in BC."
"It is very informative, and watching videos related to the topic is more comprehensive."
"After this workshop, I would have to say that it really puts things into perspective when it comes to children with exceptionalities and that even their is a wide range of them they can still end up finding ways to show off their strengths in an inclusive environment."
"Thank you for having such a Workshop it is really important to have review some of these situations because dealing with kids day to day we should know how to better understand them and help them."
"Interesting any for me a refreshing workshop."
"I really enjoyed this workshop it was very informative I feel that I really was able to get more of a understanding about child with exceptional needs."
"YES…I ENJOYED THIS ECE WORKSHOP. BEST PART IS THAT WE DON'T NEED TO GO ANYWHERE."
Start this ECE Workshop Now!! Individual Registration – Purchase an Individual Registration if you are the person who will be completing the ECE Workshop. The ECE Workshop will begin after your payment has successfully processed.