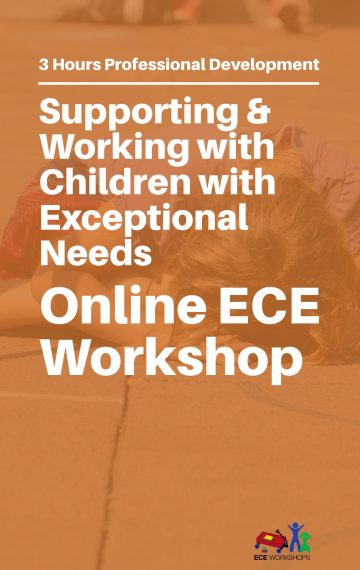 $49.99
Publisher:

45 Conversations Media & Education Ltd.

Available in:

Delivered via email and online learning pages.

Published:

February 1, 2018
Individual Registration
Team Registration
About Our Professional Development Certificates
A 3 hour online workshop about supporting and working with children with exceptional needs — including Autism, ADHD, Physical Disabilities and Behavioural Disorders. Includes videos, audio, visuals, interactive questions and more! Packed with GREAT learnings. A must for all ECEs!

Workshop Description
In this workshop, early childhood educators explore their knowledge and experience of supporting children with exceptional needs. The workshop includes a general review about children with exceptionalities, information about what is involved with a child receiving an assessment and/or diagnosis and suggestions for ways ECEs can strengthen their day to day approach related to working with children (and their families) with exceptional needs. ECEs also explore any fears or concerns they may have about including a child with exceptional needs in their classroom or program. Participants learn to identify ways to make their approach more supportive and early learning environments more accessible for children with ADHD, Autism, Behavioural Disorders and Physical Disabilities.
In Learning Hour 1:
Learn about the term "children with exceptionalities."

Explore personal knowledge, experience and reactions related to supporting children with exceptional needs.

Identifying any fears or concerns educators may have when working with children with exceptional needs.
In Learning Hour 2:
Learn general information and terminology related to children with exceptional needs.

Understand more about the diagnosis of exceptionalities in young children.
In Learning Hour 3:
Find out how to learn more about specific exceptionalities.

Learn about four exceptionalities and some strategies ECEs can implement in a child care program related to supporting children with:

ADHD – Attention Deficit Hyperactivity Disorder

ASD – Autism Spectrum Disorder

Physical Disabilities

Behavioural Disorders
Upon successful completion of this online workshop you will be sent a 3 hour professional development certificate from ECE Workshops.
How To Register
Registration in this workshop is available for Individuals and for Teams.
Individual Registration

– Purchase an Individual Registration if you are the person who will be completing the ECE Workshop. The ECE Workshop will begin after your payment has successfully processed.
Team Registration

– Purchase a Team Registration if you are purchasing this ECE Workshop for 1 or more other people. For example, you are a Program Director and you are purchasing the workshop for a group of ECEs in your program or for someone other than yourself. After your payment has successfully processed you will receive an email with next step instructions. Within the email there will be a link to an online form where you can submit the names and email addresses of the people you wish to register in the program. After you submit this  information to us, we will register your Team members in the workshop. It usually takes 24- 48 hours to start the ECE workshop for all members of your Team. Once registered, the workshop information will be delivered directly to each of the email addresses you provided/people you registered.
If you have any questions about this ECE Workshop or registration please send an email to jane @ 45Conversations.com
Here's What Educators Are Saying About this ECE Workshop!
Past ECE Workshop Attendees
Yes. . . I enjoyed this ECE Workshop. Best part is that we don't need to go anywhere. 

Being able to take profession development courses on-line can be a lifesaver when there are not enough courses available in your community to allow you to obtain your 40 hours in a timely manner.

I love Jane's workshop, it's useful and informative, and I really enjoy the video interaction from Jane. I recommend workshops from Jane to ECE educators!

This online workshop gave me a lot of knowledge and actual information I really need as an ECE. It is very practical that I can apply in the field from tomorrow.

I am thankful that I could learn more about this field for the children. I hope more many teachers can know this workshop.

This is an excellent introduction or reminder in learning about children's differences and exceptionalities. I really like the practical parts of the course.

Another great workshop experience from Jane providing a professional and educational experience.

Wonderful. Full of info. Can't wait to take another.

This was my first ever ONLINE workshop, I was a little hesitant because i thought it was going to be just videos after videos. This was not the case- it was nicely laid out in a way that was easy to follow, the questions were to the point and actually about what you just learned, i got some very good points and tips that i will be taking on with me. The videos in Part 3 were picked perfectly even if you think you know some stuff about people living with disabilities, the videos just opened my eyes even more. ~ Nicole Dunlop

I really enjoyed this workshop. This online workshop is very easy to access, it goes at your own pace which is awesome and that you can go back and review the materials as many times as you want. It is also presented very clearly, each task and videos are loaded with no problems, and the quality is good too. ~ Xintong Wang

I love doing these workshops online! It makes it easy for me to continue learning in my field without having to miss work for professional development. Between work and family it is hard to find time to register for courses, this makes it easy as I can do them whenever I have free time. ~ Diana Goode