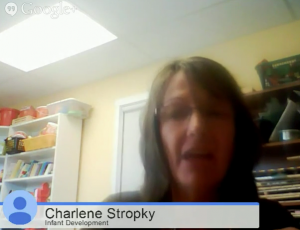 Recently I had a live conversation with Charlene Stropky about child care issues in the East Kootenay region of British Columbia. Charlene is an Infant Development Consultant with the Infant Development Program in Cranbrook.
About Charlene Stropky
Charlene works with families who have children ages birth to three years with developmental concerns or developmental disabilities in their homes. She helps families as their children begin to transition into child care programs in the community.
Highlights of Our Conversation
About the East Kootenay Infant Development Program.

Finding licensed child care options for children with developmental concerns or developmental disabilities can be very challenging.

Community based programs for young children often don't properly support children with extra needs. Many program facilitators have very limited experience working with children with developmental concerns.

It can be frustrating to bring community stakeholders up to date on the history of the challenges that the early childhood education and child care field has faced. History provides context and creates understanding.

There is a shortage of certified ECE's to work in programs in the East Kootenay region.

Concerns about changes to the quality of ECE training programs.

Compensation issues for early childhood educators who work in the field. 

Why it matters to invest in the early years.

Ways to bring child care and early childhood development together.
If you would like to contact Charlene Stropky you can email her at charlene.idp@shaw.ca.