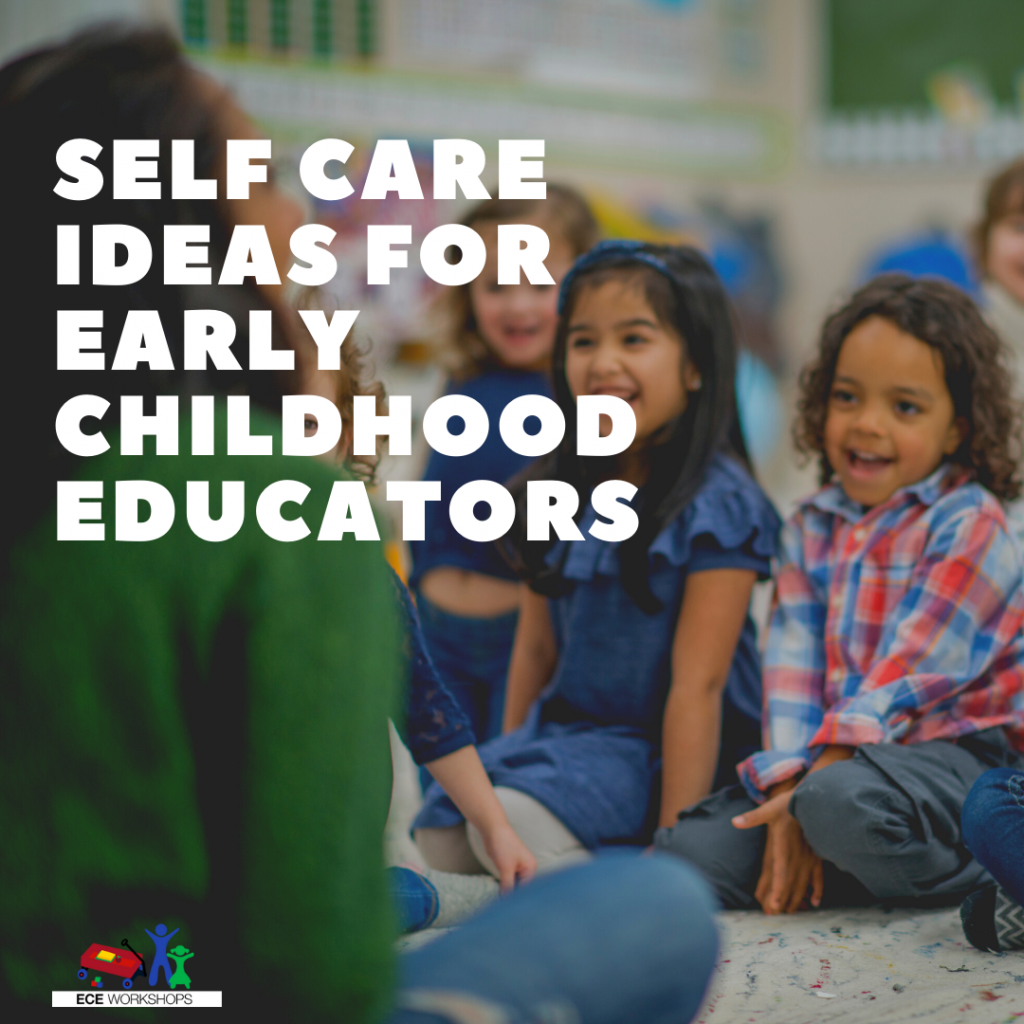 Early childhood educators have one of the most important jobs in the world. They are responsible for caring for and helping to shape the minds of young children — with the goal of supporting children to develop into happy, healthy adults. However, this important work can take a toll on an educator's own physical and mental health. That's why it's so important for early childhood educators to practice self-care. This blog post is full of some top self care ideas for you to give a try.
Self-care is any activity that an individual does to maintain their physical and mental health. This can include things like exercise, healthy eating, relaxation, and getting enough sleep. While it may seem like there is no time for self-care when you're busy caring for others, it's essential to remember that you cannot care for others if you do not first take care of yourself.
Some of the causes of burnout for early childhood educators in Canada include long hours, low pay, and high stress levels. Other factors can include emotional exhaustion, feeling undervalued, and a lack of control over their work.
To push back against these factors, and to take care of yourself, it's important to practice self care. Here are some self care ideas for you to try:

Self Care Idea 1: Get Enough Sleep
A tired teacher is not an optimal teacher. Make sure you're getting enough sleep each night, so you can be alert and focused during the day.
A good night's sleep is essential for both physical and mental health, yet many people struggle to get the rest they need. If you're having trouble sleeping, there are a few simple steps you can take to improve your sleep quality. First, make sure your bedroom is dark, quiet, and cool. Establish a regular sleep schedule by going to bed and waking up at the same time each day. Avoid caffeine and alcohol in the evening, and limit screen time before bed. Lastly, create a relaxing bedtime routine to help you wind down before sleep. Just a few small changes can make a big difference in how well you sleep. So if you're looking for ways to get a better night's sleep, give the above self care ideas related to sleep a try.

Self Care Idea 2: Find Affordable Ways to Eat Healthy
Eating nutritious meals helps your body to cope with stress. Make sure you're getting enough fruits, vegetables, and whole grains in your diet.
Anyone on a budget knows that eating healthy can be a challenge. Healthy food often seems more expensive, and it can be difficult to find the time to cook meals from scratch. However, there are ways to eat healthy without breaking the bank. One way to save money is to plan ahead and make meals in bulk. This can help you avoid wasting food, and it will also give you leftovers for lunches or future dinners. Another way to save money is to buy in season produce. Not only is this produce usually cheaper, but it will also taste better than out-of-season options. Finally, don't be afraid to get creative with your ingredients. There are many healthy recipes that can be made with inexpensive pantry staples.

Self Care Idea 3: Get Your Body Moving
Exercise releases endorphins, which have mood-boosting effects. Taking a brisk walk or going for a swim can help you to de-stress.
For many people, the cost of a gym membership or exercise classes can be a barrier to getting active. However, there are plenty of affordable (and even free) ways to get a good workout. Take advantage of free resources. Many cities and towns have public parks with trails for walking or running, and many also have public swimming pools. You can also check out YouTube for free workout videos. Try to make use of household items. Instead of buying weights, you can use soup cans or water bottles as makeshift dumbbells. And instead of an exercise ball, you can use a stability ball (or even a regular balloon). Get creative and see what you can do with what you have.

Self Care Idea 4: Practice Mindfulness
Mindfulness is the practice of being present in the moment and paying attention to your thoughts, feelings, and sensations without judgment. It can be helpful in managing stress, anxiety, and depression. There are many ways to practice mindfulness, and what works for one person may not work for another. The important thing is to find a method that works for you. Some people find that meditation helps them to focus on the present moment. Others find that they are more mindful when they take time to notice the small details in their environment or when they focus on their breathing. There are also many smartphone apps and websites that offer mindfulness exercises. Experiment with different techniques until you find one that works for you. Then, make it a part of your daily routine. The more you practice, the more benefit you'll see.

Self Care Idea 5: Connect with Others
Forming connections with others is an important part of life. It can help us feel supported, loved, and understood. However, building meaningful relationships can sometimes be a challenge. If you're struggling to connect with others, there are a few things you can do to improve your situation. First, try to be more open and honest about your thoughts and feelings. It can be difficult to let down your guard, but doing so will help others understand and empathize with you. Additionally, try to be more present in your interactions by putting away your phone and really listening to what the other person has to say. Lastly, don't be afraid to reach out and make the first move-inviting someone for coffee or lunch can be a great way to start a friendship.

Self Care Idea 6: Find a Hobby
It can be difficult to find a hobby that is both fun and interesting. However, there are a few things that you can keep in mind that will help you in your search. First, think about what you enjoy doing. Do you like being outdoors or spending time indoors? Are you interested in learning new skills or perfecting existing ones? Once you have a general idea of the type of activity that you are looking for, you can start to narrow down your options. You can also consult with friends and family members to see if they have any recommendations. Another great resource is the internet, which can provide you with a wealth of information about different hobbies. By keeping these tips in mind, you should be able to find a hobby that is both fun and fulfilling.

Self Care Idea 7: It's Okay to Seek Professional Help
Working with young children requires a great deal of energy and patience, and it can be easy to become overwhelmed. If you are feeling burnt out, it is important to seek professional help. Consider talking with your manager or supervisor. Sometimes, they can offer support, referrals and resources. They may also be able to make some changes to your job duties.
Seeing your doctor or a counsellor may also be helpful. Talking to a professional can help you identify the root cause of your burnout and develop coping strategies. There are also a number of online apps available that can connect you with mental health support and professionals who are able to listen and support you. For example BetterHelp offers virtual sessions as well as text support. You may also find some helpful links through this government webpage which lists a range of resources.
Self-care is important for all teachers, but it's especially important for early childhood educators. By taking care of yourself, you can reduce stress, prevent burnout, and be the best teacher you can be. Share a comment below and let us know what some of your favourite self care ideas are.