Child care is an important and essential service that children and families throughout British Columbia depend upon. Every day families utilize high quality child care programs to provide care for their children while they participate in the paid labour force, attend school, and/or contribute to their communities in a variety of ways. Beyond this, child care programs and other community based programs and supports designed for children and their families, provide a range of educational experiences specific to children and their developmental needs.
BC Government Proclaims  May as Child Care Month
The role of child care providers and early childhood educators is vital in every community. Child care contributes to the growth and stability of the economy as well as to the quality of life and educational development of children.
It is good to see the BC provincial government recognizing the importance of the work child care providers and early childhood educators by proclaiming May as "Child Care Month".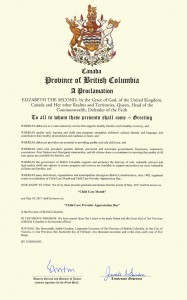 The government of British Columbia has once again proclaimed the month of May, 2017 as "Child Care Month" along with proclaiming May 18th, 2017 as "Child Care Provider Appreciation Day". These two proclamations are intended to honour and show appreciation to child care providers and educators for the critical roles they play in helping families and children learn, develop, and grow, while allowing parents to become apart of or remain in the paid labour force.
The Child Care Crisis – One Example
Throughout BC affordable and available child care is a major issue, a crisis even. Waitlisting for child care has become a nightmare and the price of child care is costing BC families in more ways than one.
A recent situation in Coquitlam serves as yet one more example as to the challenges associated with the operation of child care services. Several already existing and privately owned child care programs are faced with having their leases ended by the Coquitlam school board. This is due to an increased need for classroom space in Coquitlam public schools. As a result, parents are scrambling for ways to provide child care for their children in the interim, some resorting to quitting their jobs to take up being stay at home parents. For families who require dual incomes to survive, this change is catastrophic. Not only are these families losing child care for their children, they face loss of work and income as well as changes to their lifestyles, ability to afford housing and other basic needs.
This reallocation of privately owned day care and child care facility space back into classrooms space for public schools creates even more of a shortage of available space for child care. Situations such as the one in Coquitlam are just the tip of the iceberg — in reality many communities face tough challenges when it comes to the operation of and access to child care services.
May is Child Care Month and Election Month
According to a recent Vancouver Sun article written by Kevin Griffin on the crisis, the issue of child care is an important topic for debate or discussion in the upcoming provincial election and one that crosses over political boundaries. In the scramble to get votes and appease parents and young families who are desperate for affordable child care, the NDP, Liberal and Green Parties are proposing a variety of solutions.
May Election and Child Care Crisis Solutions
The NDP has proposed the following:
$10-a-day child care (46% surveyed support this proposal as opposed to 29% who oppose it, and 25% said they were unsure)
22,500 new child care spaces by 2020
$7 a day for part time care
No parent fee for families earning under 40, 000 per year
Increasing wages for child care workers to $25 an hour
The Liberal party says $10 a day is not cheap enough and that space is the issue, they propose:
13, 000 new day care spaces by 2020
With 5,000 of those new child care spaces being created in 2017
41,00 new licensed day care facilities
1,000 after school spaces
The BC Green party says it will:
provide free preschool for 3 and 4 year olds
free day care for children up to 3 whose parents work
and $5oo for families who have a stay at home parent and a child up to age 2
With so many BC families and children in need of quality, affordable child care and with May being Child Care Month it will be interesting to see what the outcome of the upcoming provincial election is and when and what changes will be implemented.