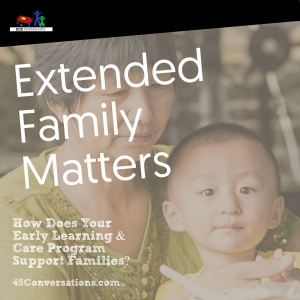 Families come in all shapes and sizes. Some families have lots of extended family members. Some have few. Yet — understand this — extended family matters. They matter when they are part of a child's life. And they matter when they are far away too.
Find ways to embrace the extended family in the early learning and care program you work in.
Welcome them into your program.
Encourage them to be part of things.
Support families to maintain relationships with extended family members who are far away.
And — for the families that truly have no extended family members — think about what they might be feeling or missing.
Help them find ways to build relationships and a strong support network.
All families matter. And extended families are a valuable asset — to children, to their parents — and — as part of early learning and care programs.