45 Conversations consults with business, government, community & entrepreneurs on issues related to:
Community Engagement
Marketing, Social Media & Online Community Building
Early Learning, Child Care & Education
Workplace & Community Needs Assessments
Team Building & Leadership Training
Mentoring & Coaching
Strategic Plan Development & Change Management
Work-Life & Employee Engagement
Customized Education Solutions
Consulting
Working with business, government, community & educators Jane consults on issues related to education, work-life balance, employee wellbeing & community engagement. She specializes in developing customized solutions for unique challenges. Jane is a master collaborator and knows how to bring key stakeholders together to create positive change.
Speaking
A frequent speaker at conferences, events, workshops & community meetings, Jane speaks on issues related to social media, collaboration, community building, education, work-life & living with intention. She also hosts ongoing online conversations via G+ Hangouts On Air.
Training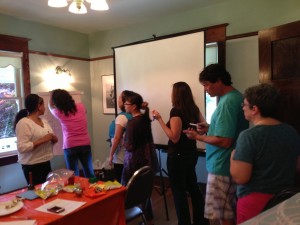 Jane works with employers, educators, community & small business groups to offer training and team building retreats related to leadership, communication, education, business development, personal development & more.
Online Community Building & Marketing
Jane is a highly skilled online community builder & manager. She is well known within the social space for her generous outreach & abilities to "make things happen". Jane has been building community online for more than 20 years & has been blogging since 2006. Jane consults on the various ways that brands & communities can build connection, community & engagement.
Contact 45 Conversations
For further information please contact Jane Boyd at 604-807-0266.